KIBO PALACE
HOTELS | APARTMENTS | HOMES
KIBO PALACE
HOTELS | APARTMENTS | HOMES
KIBO PALACE
HOTELS | APARTMENTS | HOMES
KIBO PALACE
HOTELS | APARTMENTS | HOMES
KIBO PALACE
HOTELS | APARTMENTS | HOMES
KIBO PALACE
HOTELS | APARTMENTS | HOMES
KIBO PALACE
HOTELS | APARTMENTS | HOMES
KIBO PALACE
HOTELS | APARTMENTS | HOMES
Kibo Palace has been named after Africa's largest mountain (Kilimanjaro) highest peak called Kibo. This mountain is a major tourist attraction for vacationers from all over the world. We aim to provide our clients with the highest standard of service in every aspect, a delightful experience of hospitality and modern amenities. Each of our accommodation selections is distinctive in location and architecture that portrays an authentic character of its own.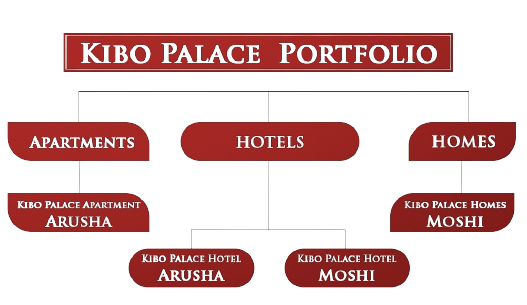 Kibo Palace Hotel - Moshi
With a Chic, Luxury hotel building the accommodation offers superb amenities and facilities for all travellers. The hotel has been recognized in Tanzania with prestigious awards and certifications for its commitment to the best service and hospitality.
KIBO PALACE HOTEL - ARUSHA
Named after the highest peak of Africa's highest mountain – Mt Kilimanjaro, Kibo Palace Hotel is one of Arusha's most exciting and innovative luxury hotels. Contemporary, conductive, and unconventional, a luxury hotel with a new attitude. The hotel is strategically located 45 minutes drive from Kilimanjaro Airport and a 10-minute walk to the central business district. Banking and hospital facilities are all within 50 meters radius of the hotel. The architectural design gives the hotel an authentic character of its own.
KIBO PALACE APARTMENTS - ARUSHA
Welcome to Kibo Palace Apartments your home away from home. We recognize and understand that where you choose to make your home is probably one of the most important decisions you will have to make in your life. We, therefore, want to make this experience for you to be memorable and worthwhile. We are a fully furnished
Learn More
KIBO PALACE HOMES - MOSHI
Beautiful Luxury 3 bedroomed fully furnished and serviced Villas in Moshi. A Serene Town on the lower slopes of the famous Mt. Kilimanjaro.
Learn More